Wardogs Goin' South….Again!

By Cate Murway

Bet you have heard people say, "things are going south" for one reason or another, and by the way they say it, they're pretty much indicating "things are getting bad". Not the case for the Lower Bucks Wardogs Unlimited! For the second year in a row, last year they ranked 6th in the nation, the Wardogs are again "going south" to the UYFL NATIONAL CHAMPIONSHIPS in Tampa, FL on December 6th.

The Wardogs are the premiere 15U program in Lower Bucks and the athletes need your help.

Believe me, the reward is not so great without the struggle. Wilma Rudolph, Track and Field Olympic Gold Medalist

Football/basketball athlete Christopher Lee Chapman, BHS class of '87/Pennco Tech is the President/founder/head coach of the" unlimited weight team", the Lower Bucks Wardogs Unlimited. It is a missed opportunity for children who are "gated" or not included in sports and this "unlimited" team includes youths from Bristol Borough, Bristol Twp. and Levittown. Their home field is next to the Bristol Township Municipal Building and their proud statement is

"We have finished our regular season in first place!

We are undefeated and have not had a single point scored against us!"

Sports do not build character. They reveal it. John Wooden, legendary UCLA Basketball Coach

Their goal is quite simple. The Wardogs team, a member of Philly NESAC [NorthEast Suburban Athletic Conference] provides an opportunity for young male athletes to continue playing football in a highly competitive and extremely instructional environment. The program has proven to build young men beyond building athletes, by demonstrating that through effort, desire and above all, teamwork, one can achieve great things, regardless of experience, skill or size.

Character must be "taught" not "caught."

The positive effects of participation include learning the important life skills of goal setting and time management combined with enjoyment, the development of a strong sense of morality and an appreciation of diversity. Sports also play a primarily positive role in youth development, especially on the five "C's"—competence, confidence, connections, character, and caring, considered critical components of a positive youth.

The successful Wardogs family team includes coaches, head coach "Chap"; Offensive Coordinator, Bill Smith; Defensive Coordinator, Darrin McAdams, Sr.; and Assistant Coaches, Bill Kane, David Gray and Mike Gettis; as well as all of the teammates, parents and supporters.

People who work together will win, whether it be against complex football defenses, or the problems of modern society. Vince Lombardi, American Football Coach

Team moms, Billows Electric Supply corporate controller / Wardogs VP Cathy Beers, and research scientist / Wardogs CFO/ Fundraising Director Holly Ann Raymond have planned a string of fundraising events.

Their sons, HST sophomores, Michael F. Beers, Jr. and Connor McAdams are team co-captains and Darrin McAdams, Jr. designs the webpage. The additional co-captains are Justin Fant, Maurice Jackson, Jr. and Quin McQueen.

Correction officer Michael F. Beers, Sr. videos all the games so plays can be reviewed, and IT professional, James Parks "does whatever needs to be done", runs the concession stand and takes the "millions of photographs".

These unique fundraising ideas offer fresh new ways to get you excited about generating monies for this youth sports team.

The Benevolent and Protective Order of Elks #970, the little lodge with the big heart at 95 Wood Street, is hosting a Beef and Beer this Friday, November 15th at 7:00PM to help raise funds to send the athletes to the UYFL Nationals in Florida. A $25.00 donation entitles you to a good time, a good meal and dancing, as well as Basket raffles and a 50/50, so one lucky fan will go home with half of the net proceeds and the other half will be donated to the Wardogs for their UYFL trip. ESPN donated Disney tickets for the raffle.

Breakfast more your favorite meal? The Bristol Elks will also host the flapjack fundraiser on Sunday November 17th from 8:00AM - 11:30AM.  A short stack will set you back a mere $8.00 but will help in a big way.

BINGO!!!  Perhaps THIS is your game plan to help the athletes. Let the chips fall where they may… their "Bessie" of Bingo, "Scruffy", will be "takin' care of business" during COW CHIP BINGO on the Wardogs Field on Saturday, November 23rd from Noon until 4:00PM. Stake your claim and PLOP down $20.00. Reserve your plot [hope you're SPOT ON] for games, face painting, food and $1,000 in cash prizes.
Berrocal & Sons Landscaping
is donating the DJ services and their sponsorship has also helped fund the Wardogs athletic venture, allowing 2 or 3 youngsters to play with the team, who otherwise wouldn't have been able to afford to participate.
The Wardogs sincerely thank the community for their support. Can your business help?

Patrick Reagan, President of Tru Line Fencing in Levittown has assisted this very successful 'blue & gold' team along their way.

Councilman Tony Devine donated a bottle of
"Got Wine?"
wine and the proprietor of that Market Street shop in Bristol, Jayne McPherson-Young has generously donated an artfully arranged basket for the fundraising raffle.
St. Ann and St. Mark Parishes have agreed to advertise the Wardogs functions in their Church bulletins and the local nightlife spots, Bert's Place and the Borough Pub on Farragut Avenue have offered to help out as well.

The semi-final playoffs will be held November 17th at 2:00 PM at the Wardogs Field, 2501 Bath Road, Bristol.  You are welcome to come cheer them to victory!!

Congressman Michael G. "Mike" Fitzpatrick often supports and interacts with the athletes at their games.

All donations are sincerely appreciated.

Wardogs Unlimited

2415 Palmer Ave.

Bristol, PA 19007

Suggest a "Spotlight". E-mail vjmrun@yahoo.com

Bristol Wardogs on the Way to UYFL Nationals                                                                                        

by Cate Murway

Some folks claim that we must all work to make the world worthy of our children, while others invest their time making better children for our world.

Since children are literally the future, our next world leaders, the caretakers of our planet, doesn't it make sense that if we want a more quality world that we should invest in that very future, our children?

Character training seems to have gone out of style but all children need guidance and good examples of positive character traits if we want them to grow up to be productive citizens.

If growing healthy humans is the goal, then building trust and relationships, encouraging, guiding, leading, teaching and communicating are the tools for success.

Football/basketball athlete Christopher Lee Chapman, BHS class of '87/Pennco Tech is the President/founder/head coach of the" unlimited weight team", the Lower Bucks Wardogs Unlimited. The athletes include youths from Bristol Borough, Bristol Twp. and Levittown.

Their home field is next to the Bristol Township Municipal Building. The late Bristol artist, Joseph Edward Pavone's, 6'5" Pennsylvania War Dog Memorial, dedicated September 16, 2006, is located in front of the building on 2501 Bath Road. Per CFO, Holly Ann Raymond, the athletes pat the dog's head for luck before games.

The Wardogs Board also includes Vice President, Darrin McAdams who is also the Defensive Coach.

With an overall record of 8-2, this PA team is planning to travel to Tampa, FL from December 2nd through December, 7, 2012, representing the Northeast Suburban Athletic Conference for competitions, as one of the 22 states sending a team. The NESAC has been managing youth sports in Philadelphia and the surrounding counties since 1961.

They have played in Brooklyn and the Bronx. "We like to play the best. The only way the team can really improve!"

Chris Chapman is an independent electrician generating a strong current of enthusiasm into this team comprised of the 11-15 year old football players.  "We are keeping the kids off the streets and playing football. Keeping them off the corners and from getting in trouble".

This is the Wardogs' 4th season. Fall ball commences the 1st week of August and culminates with the resurgence of the thanksgiving traditional rivalry game with Bridgeton, NJ. Then practice starts again at the end of February and they finish up in early June.

He feels, "This is my way of giving back.  Dr. Broadus Davis was my idol growing up."

Chris is proud of his "rag tag" athletes. ""We make it work. These kids are so focused. Not one single kid complains." Each player learns to understand and work with his capabilities.                   

He shouts, "One team" and they yell back, "One goal."

"When they're on that field, they're all brothers!"                                                                               

Their reward is a personal pride and greater understanding of the game.

Each player must provide a PA state ID and produce their report card that gets checked twice during the season.

"D and under is not acceptable. They can practice but no games. The [academically] trouble kids want to get their grades up so they can play."

The Wardogs is Bucks County's only 15& under unlimited weight program. Chris reached out to all the schools, including Neshaminy and Pennsbury, when Bristol Township schools cut the 9th grade football programs. .

"The Truman coaches embraced our program."

"No one gets turned away. Parents pay what they can pay. We just fundraise all year."                         

A big challenge is always funding.

J&J research scientist /team mom, Holly shared, "Chris is a very motivational coach, and you can see from his interaction with the boys that he has a true love of the game of football.  He has a real talent for getting the boys pumped up before the games, and is dedicated to developing leadership skills in the players."

Chris feels like he has two dozen sons. In actuality, he has four children.

His 3 daughters all help with the team. Mackenzi is the photographer, Danalee shares her artwork talents and Nadya helps with designs.  His almost 4-year-old son, Christopher, Jr. has been to 90% of the practices.

He's the "WarPUPPY" in the program!

While Holly completes paperwork, investigates grants and coordinates fundraising, her son, Darrin McAdams developed and maintains the team web page. Holly's husband, James Donald Parks has worked for Macquarie holdings, a leading provider of banking, financial, advisory, investment and funds management services for ten years. On his 10th anniversary, the company offered to donate $1,000 to his non-profit of choice.

The 501c non-profit Lower Bucks Wardogs Unlimited is the grateful recipient.

All of the team parents are supportive.

Michael and Cathy Beers film the games so plays can be reviewed. Gus Mizenko, Mike Meyer, Eric and Jessica Fant, Phil Reilly, Denell Snelling, Mike Gettis and Anthony Meyers, Sr. all help with various and transportation needs.

The Florida trip will be "a great experience for the kids". They need to raise $10,000 for the 22 athletes, "About $500.00 per kid" for the hotel rooms. The caravan will include 2 passenger vans and 3 parents with SUVs loaded with food and the sports equipment for the team.

Fundraisers are in place.

"The Bristol Elks #970 have always been great. They go over and beyond as our main sponsor."

Exalted Ruler Don Amareld, Jr. bought their yellow jerseys with the blue numbers for them last year and purchased navy pants for them this year.

The Benevolent and Protective Order of Elks, the little lodge with the big heart at 95 Wood Street, is hosting a $10.00 "All you can Eat" Spaghetti Dinner on Friday 11.9.12 from 6:30- 8:00 PM. to help raise funds to send the boys to the UYFL Nationals in Florida.  Holly is preparing the vodka rigatoni, her mother Rita Raymond is supplying the spaghetti and meatballs, and the athletes' parents are donating desserts and side salads.

They are thankful for community support.

Home Depot of Tullytown donates all the field paint. The Temple University football team is permitting them to fundraise and the athletes will be given free tickets to the TU game.

Patrick Reagan, President of Tru Line Fencing in Levittown has assisted the team. Bristol Walmart offered them two days to fundraise at their location.

Due to the size, speed and strength of the athletes, state of the art helmets are required.

"A Football helmet distributor sold us 20 helmets at a reduced price" and Chris also relayed, "Thank you to the Advance/Pilot for their help!"

The team has scheduled a second fundraiser for Monday, November 12th at Buffalo Wild Wings in Langhorne. 

From 6:00-11:00PM, 10% of the proceeds will be donated to the Wardogs.

All donations are sincerely appreciated.

Suggest a "Spotlight". E-mail vjmrun@yahoo.com

~~~~~~~~~~~~~~~~~~~~~~~~~~~~~~~~~~~~~~~~~~~~~~~~~~~~~~~~~

POSTED ON FACEBOOK

November 11, 2012

Bristol Wardogs Advance to League Championship next weekend at Lincoln High School and

secure their spot in Tampa for national title..

~~~~~~~~~~~~~~~~~~~~~~~~~~~~~~~~~~~~~~~~~~~~~~~~~~~~~~~~~~~~~~~~~~~~~~~~~~~~~~~~~~

Without a Fumble

by Cate Murway

The school year is drawing to a close and the goal is to keep all the Borough kids active, healthy and fit.

Playing sports; being part of a team, bonding with a peer group; receiving mentoring, modeling, and friendship from young adult coaches; and having opportunities to demonstrate skills in front of friends and family may all be fun for children and therefore highly motivating, as well as an efficacious intervention for increasing physical activity.

Participation in sports provides an excellent learning experience for young athletes to build skills and confidence in many aspects of life. When good exercise and nutrition are emphasized, sports build a strong foundation for a healthy lifestyle forever.

"I am trying to bring youth football back to Bristol Borough... it prepares our youth for high school ball and will undoubtedly help the high school program. I encourage more kids to get involved. It will keep the kids involved and not hanging on corners and looking for trouble.....". Chris Chapman

Co-creator of Facebook's "Bristol United", football/basketball athlete Christopher Lee Chapman, BHS class of '87/Pennco Tech, started an "unlimited weight team" in Levittown this past year that includes youth from Bristol, Bristol Twp. and Levittown. They are using the field next to the Bristol Twp. police station.

Playing as the Lower Bucks Wardogs Unlimited, he and his assistants are able provide insurance, pants and a jersey designed by Chris' daughter, McKenzie Patrice, as well as the necessary football training. Chris and offensive coach Mike Childs and the defensive assistant, his brother Russ Chapman are geared to prepare each aspiring athlete for the necessary rigors for only $70.00 in a safe, affordable and competitive environment.

They keep the focus on fun!

Bristol Wardogs Unlimited is named for the dogs in warfare that have a long history starting in ancient times, from 'war dogs' trained in combat to their use as scouts, sentries and trackers in WWII, Korea, Vietnam and other US military actions.

Joseph Edward Pavone, the late Bristol artist's, 6'5" Pennsylvania War Dog Memorial, dedicated September 16, 2006, is located in front of the Bristol Township Municipal Building on 2501 Bath Road.

"I have three young boys who are not going to have the chance to play football here as I did as a kid,these were some very special times in my life growing up. I made many friends who I still see and interact with just about everyday." Russell Chapman

The children practice daily on the Wardogs Field on Bath Road, their home field, by the township police department from 5:30 PM until the daylight wanes.

Bristol Wardogs Unlimited is the only team in the area with a spring football league and they will continue throughout the fall.

"We cater to the kids who are unable to play on the school teams between the ages of 10-15 and over 125 pounds."

Kim Luna is the team mom, and Chris' sister, Valerie Chapman-Spanelis helps transport the athletes.

A big challenge is funding. Donations, bake sales and coin drops fund this athletic venture. They compete with teams from Philadelphia and the surrounding tri-state area. Chris feels that because it is more competitive than local school ball, the program acts as a feeder into the high school venues.

The Wardogs Unlimited have accrued approximately 15 teams, an increase from last year.

Chris is extremely thankful for the unbelievable support from the Bristol Elks #970, the little lodge with the big heart, and Program Developer Martha Miller of Bristol Township's nonprofit "No Longer Bound". With their most generous financial help, the group was able to purchase helmets and kneepads.

Martha Miller has also provided pizzas and refreshments for the team. Susan Marie Corleto, proprietor of "Sweet Mustard Seed" on Mill Street is donating their April tips to the Wardogs and "come fall, they will again donate for the fall team".

Chris' mom, the former Borough parade coordinator Margie Chapman, is coming out of retirement to help with the fund raising efforts.

Success is measured not with charts and graphs but with winning. Touchdown!

Chris offers his "big congrats to the Unlimited Wardogs as they beat Harrowgate Mustangs 35-0. These kids have worked tirelessly to come together as a team. These kids showed respect, discipline and represented the organization with pride and honor".

Looking for summer activities for your kids?

"A six week summer program is in the works to keep the children active, engaged and occupied throughout the summer," shared Marissa Christie, the United Way project director for Bristol Borough's 21st Century Learning Center.

Jeffrey Paul Manto, the likable local star of a sentimental "dream fulfillment" tale set in historic Bristol on the Delaware is prepared to keep the "Bristol Bits" active.

"We have started the Community Center in July backed by the Boys and Girls Club and the United Way of Bucks County. We have incredible programs for Borough residents only. Please stop by St. James Parish Hall on Wood Street and Walnut Street. The programs start at 3:30 PM and end at 7:00PM Monday through Thursday. We offer sports, tutoring and FREE SAT classes to only Bristol Borough students, not just the public students, but private as well. Every parent was notified at Back-To-School Night held at Warren Snyder this year. We also had a very successful baseball/softball and basketball clinic this summer. We need everyone to engage a little more.

To all of you-Please stop by and check it out!"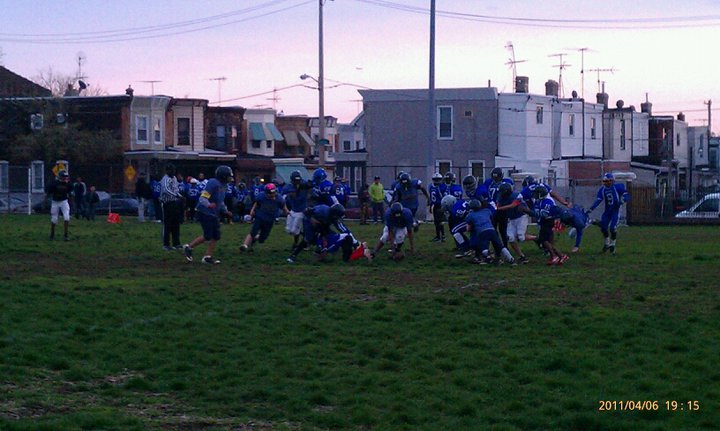 Wardogs -  picture by Janeen Jones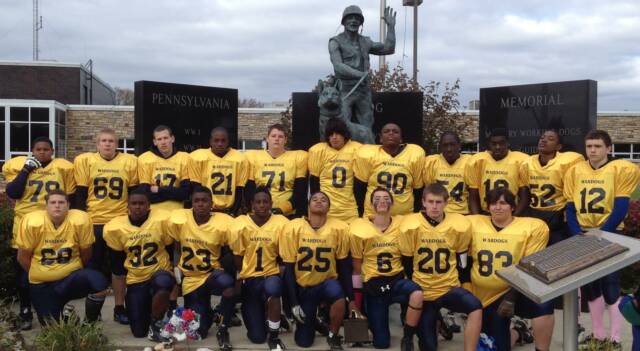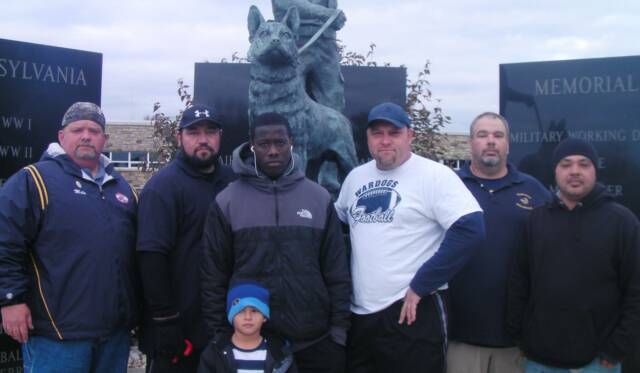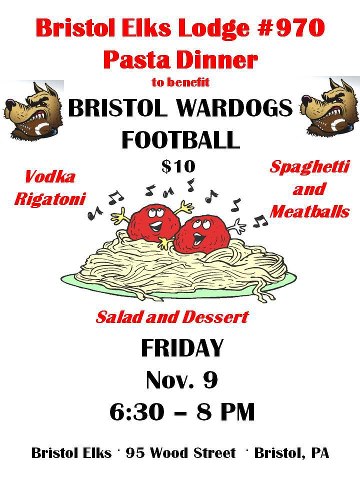 pictures courtesy of Holly A. Raymond

Top Row:79 – Bahair Saunders, 69 – Mike Beers, 17 – Dominic Ritchie, 21 – Danell Snelling, 71 – Connor McAdams, 0 – Danny Howarth, 90 – Keanan Baines, 54 – Justin Fant,

10 – Michael Phillips, 52 – Maurice Jackson, 12 – Ryan Gettis

Bottom Row:68 – Anthony Meyer, 32 – Dwayne Majors, 23 – Will Dogba, 1 – Quin McQueen, 25 – Quran Gordon, 6 – Darius DeLeon, 20 – Tommy Reilly, 83 – Andrew Mizenko

Not pictured – 77 – Anthony Krause, 5 – Samson Bloh, 22 – Fuquan Caraway

coaches:

Mike Gettis (asst.), Darrin McAdams (Defensive Coach),

David Gray (asst.) [former Wardogs running back,  Pennsbury grad/ BCCC], 

Chris Chapman (Head Coach), Bill Smith (Offensive Coach), Jesus DeLeon (Special Teams)

Front: Jeremiah DeLeon (Water Boy)




pictures courtesy of Holly Raymond and Cathy Beers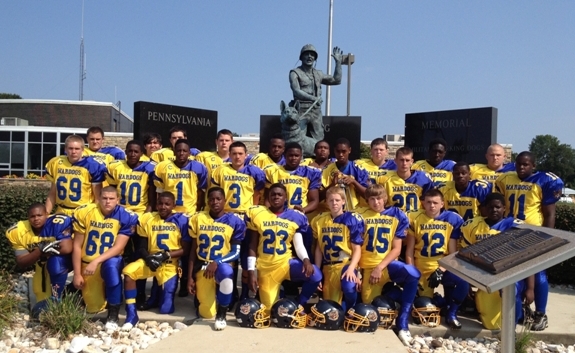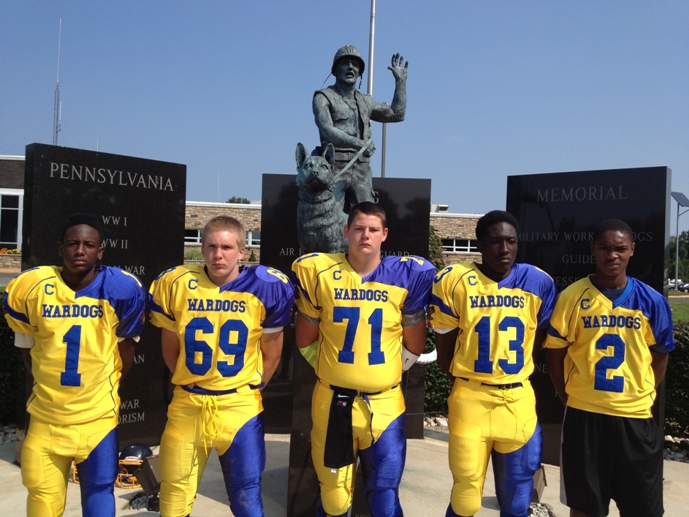 Wardogs team

photographed in front of late artist, Joseph E. Pavone's Pennsylvania War Dog Memorial
Wardogs team captains

from left: Quin McQueen, Michael Beers, Jr, Connor McAdams, Justin Fant, Maurice Jackson, Jr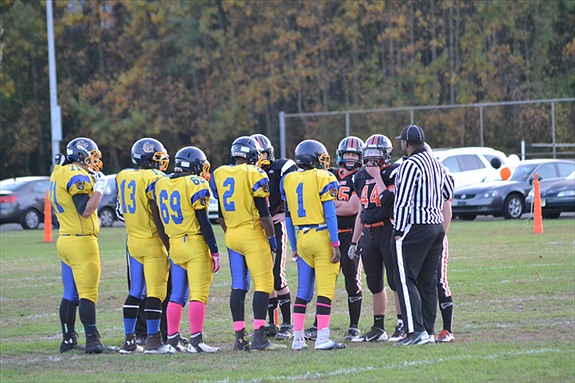 Holly Raymond        11.24.13

"We did it!!! Nesac UYFL Champions!!!

Final score 26-0!!"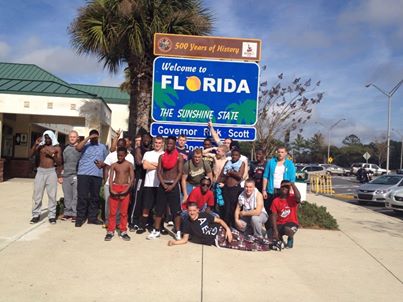 Florida Welcome Center (I-95) State Line!

Holly Raymond       12.7.13